■Age :16
■Hair Colour : Blond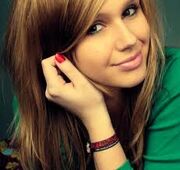 ■Eye Colour : brown

■District : 12

■Personality : She is kind and sweet and Amazing and Nice

■History: Her dad die in car accident during storm, when she was10 and Her mom die of Childbirth and her baby siister get adopted. when she was 12. she went to live with her godparents until she is 16. When she was 15 year old, she was May Queen. But when she is 16, her godfather get marry and move to somewhere and leave her with her godmother, her godmother get marry and look after Anna.She have lot Ex-Boyfriend ,When she was 13 year old her boyfriend cheated on her. When Annabeth went on the vacation and she travel until she get to Captiol.
Can you try to put it in chronological order, please? And it doesn't really make sense, due to there being lots of conjunctions and little/poor punctuation. Let the haters hate, You're like way too late. 17:49, July 2, 2012 (UTC)
Some of it still doesn't make sense. Let the haters hate, You're like way too late. 20:22, July 2, 2012 (UTC)
Can you fix it for me?I love the Cats, and Wolves 21:15, July 2, 2012 (UTC)
Ad blocker interference detected!
Wikia is a free-to-use site that makes money from advertising. We have a modified experience for viewers using ad blockers

Wikia is not accessible if you've made further modifications. Remove the custom ad blocker rule(s) and the page will load as expected.